Cooking Instructions for LÉVESQUE Toupie Ham
Preheat the oven to 160°C (325°F);
Place LÉVESQUE Toupie Ham in a large pan of ovenproof dish;
Cook for 40 minutes, frequently drizzle with a maple glaze.
Preparation :
In a large saucepan, brown garlic and onion in butter over medium heat;
In a bowl, add beer, chicken broth, maple syrup, mustard, spices and add pepper to taste;
Mix thoroughly and bring to a boil;
Reduce by half, then pour on ham and place dish in the oven;
Baste ham regularly during cooking.
Ingredients
1 tbs. butter;
1 clove of garlic, finely minced;
1 onion, minced;
1 bottle of beer, according to your taste ;
1 cup of chicken or beef broth;
2/3 cup of maple syrup;
3 tbs.Dijon mustard;
Spices and ground pepper to taste*
* Choose spices that will enhance pork's flavor, such as cinnamon, cloves, coriander, cumin, ginger, rosemary and thyme .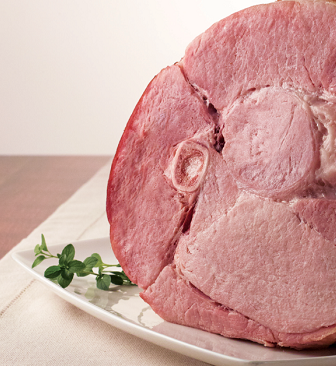 Brush the ham with Dijon mustard;
Add 1 tsp. each of your 7 favorite spices;
Place ham in a large dish and cover with water by gently pouring the water taking care not to remove the mustard.
Bake at 275-300°F for 8 to 9 hours,
Pork Leg Bone-in Ham
Onions to taste
4 to 5 garlic cloves
Dijon mustard
Spices to taste
Apple & Maple flavoured Ham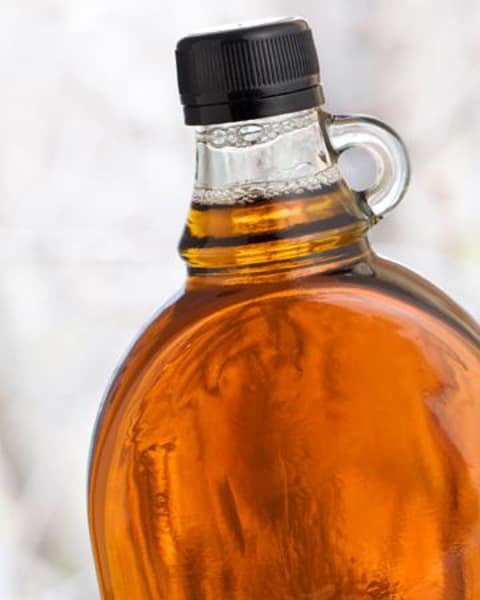 Preheat the oven to 140°C (275°F).
Place ham in a large saucepan and half cover with water;
Add the apple juice, half the maple syrup, half the ginger and the pepper;
Bring to a boil and simmer over low heat for 30 to 40 minutes. Then transfer ham into a roasting pan;
In a bowl, combine the remaining maple syrup, ginger and apple cider vinegar, then pour over the ham;
Brush the ham with mustard;
Bake for 90 minutes or until the meat thermometer reads 60°C (140°F).
Frequently baste ham during cooking. If cooking juice becomes too thick or tend to caramelize, add a little water.
½ ham with or without bone, about 2.5 kg (5 lbs);
2 cups apple juice;
1 cup maple syrup;
Pepper to taste;
Dijon mustard;
1 tbs. ground ginger;
¼ cup apple cider vinegar.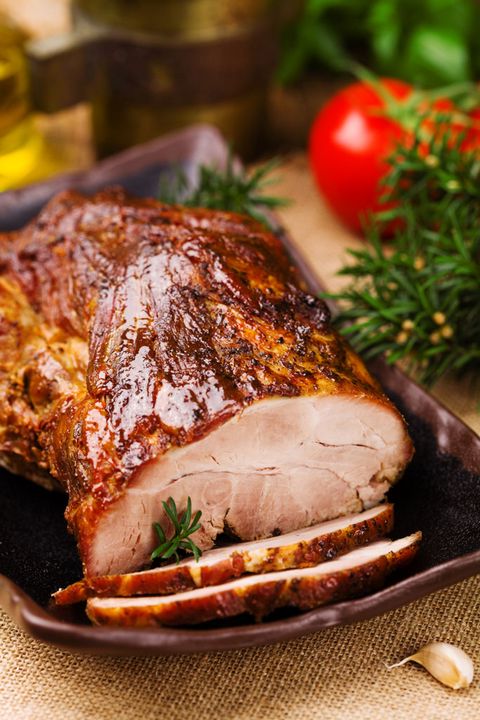 Preheat the oven to 180°C (350°F);
Cut potatoes in fine slices;
Place potatoes in a bakingdish like a gratin Dauphinois;
Cut the onions into thin slices and place on the potatoes. Then add a second layer of potatoes;
Add pepper to taste;
Cover with broth and place the roast on the potatoes;
Spread the butter over the roast. (This is what will make it brown.)
Bake for about 1 hour  and 15 minutes.
2 pork roasts in marinade;
2 kg peeled potatoes
4 onions
1L of broth (poultry or beef)
30g butter or goose fat
Pepper to taste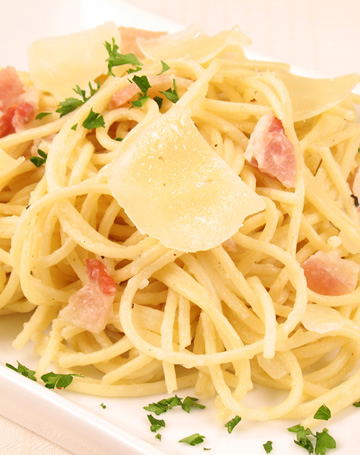 Bring salted water to a boil in a saucepan and cook the pasta. Drain and set aside;
In a bowl, whisk the lemon juice and olive oil, set aside;
Place the pasta in a large dish and add the ham, olives, lemon zest, stir to mix.
Serve warm.
Add parmesan and parsley to taste. Season with salt and pepper if desired.
2 packets of sliced LÉVESQUE Ham, cut into cubes or strips;
¼ cup lemon juice;
½ cup extra virgin olive oil;
½ cup sliced black olives (optional);
Fresh parsley, chopped (optional);
Grated zest of 2 lemons;
1 can (500g) spaghetti or pasta of your choice;
Grated Parmesan (optional);