In a bowl, mix the lemon juice and the olive oil with a fork. Leave aside.
In a serving bowl, add the ham, the olives, zest of lemons, mix well.
Bring water to a boil for the spahetti.
Cook to taste. Drain.
Add hot pasta on top of ham and other ingredients.
Pour the lemon juice and olive oil and mix gently.
Add Parmesan and parsley to taste.
A really quick and tasty meal !
Ingredients
2 packs of sliced Levesque maple smoked ham (diced or cut in short strips)
¼ cup of lemon juice
½ cup of extra virgin olive oil
½ cup of sliced black olives (optional)
Fresh parsley to taste
Zest of two lemons
500 grams of spaghettis
Parmesan (optional)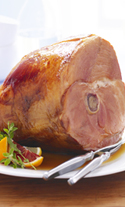 Cover the ham with Dijon mustard.
Add 1 tbs of each of your 7 favorite spices
Pour water on the side so as not to rince off mustard.
Cook at 275-300°F for 8 hours to 9
Ingredients
Smoked ham with bone
Onions to taste , 2 or 3
Garlic to taste, 4 to 5 cloves
Apple and Maple Syrup Ham
In a large casserole cover the ham to mid-height with fresh water.
Add the apple juice and 125 ml (½ cup) of maple syrup, pepper and half the ginger.
Bring to a boil at medium heat then lower heat and leave to simmer 30 to 40 minutes.
Preheat the oven to 140°C (275°F)
Put the cooked ham in a roasting pan. Mix the rest of the ingredients to the maple syrup and pour on ham.
Cover the ham with Dijon mustard.
Roast in the oven 90 minutes or until meat thermometer indicates 60°C (140°F)
Baste ham frequently while cooking. Add a little water if the cooking juice tends to thicken or begins to caramelize.
Ingredients
½ ham with or without the bone, approx, 2.5 kg (5 lb)
500 ml. (2 cups) apple juice
250 ml. (1 cup) maple syrup
Pepper to taste
Dijon mustard
5 ml (1 teaspoon) ginger, ground
60 ml (¼ cup) cider vinegar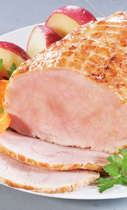 In a large casserole dish spread the sliced potatoes
Cut the onions in fine slices. Spread over the potatoes and add another layer of potatoes on top.
Pepper lightly
Cover with the broth and top with the two sweet pickled pork roasts.
Spread butter on top of roasts. This will make them brown.
Cooking
Preheat oven 10 minutes at 180°C (350°F)
Cook for 1h15 approx.
Ingredients
2 sweet pickled pork roasts
2 kg potatoes, sliced
4 onions
1L broth (chicken or beef to taste)
30gr of butter or goose fat
Pepper
Levesque Tradition
500, rue Beaumont
Montréal (Québec)
CANADA H3N 1T7
Phone : 514 273-1702
Toll Free : 1 877 539-1702
ventes@salaisonlevesque.com